Nato has no intention of launching new air operations in Libya despite deadly clashes taking place in a former bastion of late dictator Moamer Kadhafi, the alliance chief said Thursday.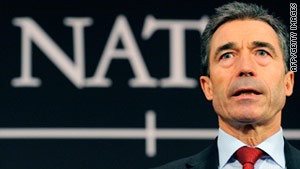 Fighting erupted in the oasis town of Bani Walid earlier this week, three months after Nato ended its air war in Libya and declared it had accomplished its mission to protect the civilian population.
"We are not present in Libya and we have no intention to return," Secretary General Anders Fogh Rasmussen told a news conference.
Rasmussen noted that the UN mandate that authorised the operation was no longer active. The seven-month Nato bombing mission crushed Kadhafi's army, giving rebels an edge in the conflict. Continue reading →