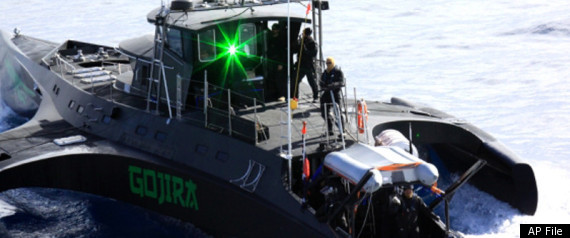 ABOARD THE STEVE IRWIN — A boat operated by environmental activists was steaming toward Libyan waters Friday, hoping to stop illegal fishing for bluefin tuna – with confrontation if necessary.
The Steve Irwin, which is owned by the U.S.-based Sea Shepherd Conservation Society, could enter Libyan waters as early Friday night, said Locky MacLean, the first mate. The Brigitte Bardot, another boat owned by Sea Shepherd, has searched the region and has reported that 23 purse seiners, which catch tuna with large nets that draw closed like purses, are now working in the area.
While the activists will in theory be operating in a war zone, they do not fear for their safety as a result of the Libyan conflict. That war is not being fought at sea, and Sea Shepherd is keeping NATO, the military alliance conducting the campaign to protect civilians in Libya, aware of its activities.
The Steve Irwin carries a helicopter, which will be used to scout for tuna fishermen just north of Libyan waters. The conservation group wants NATO to grant it an exemption from the no-fly zone it is enforcing over Libyan territory so the chopper can also be used to search those waters.

The group believes fishermen may see Libyan waters as safe territory for poaching, because inspectors will be loath to enter the area.
The stock of bluefin tuna has been depleted to the point that conservationists fear its collapse to unsustainable levels. The raw meat is highly prized in Japan.
The fish spawn in the Mediterranean before heading out to the North Atlantic.
Nearly 40 activists from Sea Shepherd are on board the Steve Irwin, which is named after the Australian conservationist and TV personality known as the Crocodile Hunter, who died in 2006. MacLean said if need be the Sea Shepherd volunteers will take "direct action" by diving into the water and cutting nets to free the tuna.
The Sea Shepherd activists, most of them volunteers, have no official enforcement powers.
Source: Huffpost Green