We are tracking the latest developments to keep you updated on the situation on the ground. There are interactive maps located in the Protest map page to keep up with the latest movements. Also check out the featured twitters on the sidebar. On the Go? -Follow us on Twitter @Feb17Libya for the same live updates.
All updates are in Libyan local time (GMT +2)
That wraps up our Live coverage of the unrest in Libya on March 26th. Check back shortly on the homepage for Live coverage of March 27th. Thanks for tuning in
12:28am: Feb 17 voices tweets:
"Muhannad Bensadik's body, missing for weeks, was found today in #Ajdabiya, and given a burial before sunset, according to his family #Libya"
Read more about Muhannad here and here.
Quick recap of today's top stories:
Rebels in eastern Libya retake frontline town of Ajdabiya and say they've advanced and captured Brega as well.
Pro-Gaddafi forces are reported to be bombarding Misrata, following reports of allied air strikes.
French warplanes destroy 5 Libyan planes and 2 helicopters on ground at Misrata airport.
Eman Al-Obeidi talks to journalists at Rixos hotel in Tripoli (where foreign journalists are staying) about being raped by 15 pro Gaddafi men, before being physically bundled away by government minders.
10:45pm: French warplanes destroy five Libyan planes and two helicopters on ground at Misrata airport, Reuters news agency quotes armed forces spokesman as saying.
9:15pm: Al Jazeera's story about Eman Al-Obeidi, who claims she was handcuffed by government troops and gang-raped by 15  men. The woman narrated her story to journalists at a hotel in Tripoli as government minders and hotel staff dragged her out of the hotel to stop her telling the story.
8:47pm: Most Germans support Chancellor Angela Merkel's decision not to get involved in Libya, an opinion poll has showed, even as criticism of her policy grew within her own party. The poll carried out for the weekly publication Focus showed 56 percent were in favour of Germany's abstention in the United Nations Security Council resolution authorising outside military intervention in Libya to stop civilian casualties.
Berlin also declined to take part in NATO's naval enforcement of an arms embargo against Libya. The poll of 1,000 people showed 36 percent considered the UN vote abstention to have been a mistake, an opinion shared by some members of Mrs Merkel's right-wing Christian Democrat (CDU) party.
Former defence minister Volker Ruehe branded it an "error of historic dimensions whose long-term consquences will be unavoidable," in an interview to be published Sunday in the weekly Der Spiegel. "The pillars of party policy have been destroyed by this stance, the result of a combination of absence of leadership and incompetence," he claimed.
8:45pm: Pro-democracy activist Ahmed Al Misrati in Misurata tells al Jazeera:
The city of Misurata is besieged from all sides. Gaddafi's troops had laid siege to the city and after the no-fly zone [was imposed] Gaddafi troops who were stationed in certain [areas] are now spreading out around the city.Some of them are also positioned inside the city in the main road called Tripoli Street. As a matter of fact, the city of Misurata since morning has been under heavy gunfire and heavy bombardment … by tanks or mortar shells. This bombardment is indiscriminate and arbitrary, sometimes targeting residential plots and one entire family was killed – the father and his children.They are also stationed in other rooftops, especially the high buildings … Anybody in the street comes under heavy gunfire and now the situation is exacerbating and is very, very dire.
7:50pm: Colin Freeman, the Telegraph's correspondent in Benghazi,interviewed one of Gaddafi's military commanders, who defected to the rebels. He says: "I was reported to the security forces and told I had no choice but to come. I thought I would be killed or jailed otherwise. Gaddafi has never been a good man, he has never convinced me of his cause, and the morale among his troops has never been high. But I didn't ever want any kind of fighting between Libyans, I thought that would never happen. I would rather things change in a peaceful way than fighting each other."
7:09pm: Rebel fighter Abdelsalam al-Maadani tells AFP: "We are in the centre of Brega… Gaddafi's forces are on the retreat and should now be at Al-Bisher (30km) west of Brega."
7:03pm: Russia's chief of staff, General Nikolai Makarov, said that the air strikes had not been effective. "Air (strikes) as I see it have not given them results. If their aim was to topple the regime of Gaddafi, then probably they will not manage without a ground phase. I would not rule it out," says Makarov. He reaffirmed Russia's position that it would not join the international operation, saying that "there is not even any thought of this."
Rebels tell the AFP news agency they have retaken the eastern town of  Brega, and a journalist confirms their forces are in the town centre. "We are in the centre of Brega," rebel fighter Abdelsalam al-Maadani told AFP by telephone.
6:59pm: A resident in Misrata tells the BBC: "I just got back from the city centre… many buildings are totally destroyed and aircraft are flying now over misrata. We can hear the sound of the air forces… the situation is very very critical." A reminder that we can't independently verify these reports.
6:35pm: Reuters is also reporting Pro-Gaddafi tanks advancing eastwards towards Misrata.
6:37pm: Al-Jazeera's James Bay reports the scenes of celebrations in Ajdabiya
6:28pm: A Misrata resident who's been in touch with the BBC reports: "Strong and random bombing targeting the residential areas… Gaddafi's troops are trying to enter the city by any cost and they're commencing a brutal and fierce attack from two directions."
6:09pm: Libyan rebels claim to have taken Brega – AFP.
Sky News Report on Eman Al-Obeidy
5:
49pm: A rebel spokesman, Ahmed Khalifa, has told AFP that at least 13 pro-Gaddafi fighters have been taken captive and are being treated as prisoners of war.
5:44pm : Al Jazeera's Sue Turton, reporting from Benghazi, the opposition's stronghold, says a senior Libyan army office has ben captured by the rebels.
We're hearing reports that the number three in Gaddafi's army Bilgasim Al-Ganga has been captured overnight in fighting in Ajdabiya. He has a fierce reputation among the opposition who accuse him of committing many atrocities under the Gaddafi regime. Nation Council had press conference – They now believe they have Gadadfi forces on the back foot.
There is muted optimism. It really does feel the momentum of the Gaddafi forces has been stopped. They are not outwardly celebrating but they are definitely optimistic.

Turton said the general would be brought to Benghazi.
4:45pm: AP also has a sinister report from formerly rebel-held Zwara in western Libya. It says pro-Gaddafi forces now have a firm grip on the town. "They have lists of demonstrators and videos and so on and they are seeking them out," says a resident, who then describes a friend being dragged away. "They came with four or five cars with four people in each one, all of them armed to the teeth with Kalashnikovs. They surrounded the house and took him out."
4:40pm: During their entry into Ajdabiya, the rebels got their hands on a dozen boxes of much-needed anti-aircraft ammunition, as well as hauling away a captured rocket launcher, AP reports.
4:39 pm: Check out these images from the newly LIBERATED town of Ajdabiyah  View the rest of the gallery here
3:30pm: AFP's Sara Hussein reports from Libyan city of Ajdabiya, after those allied air raids: "The damage is astonishing. Body parts – some identifiable as such, pink and covered with flies, others little more than piles of ash – are visible next to the carcasses of tanks."
Video: Chaotics scenes as Eman Al-Obeidi is taken away she is crying "no,no,no!" Brave journalists try to fight on her behalf

3:15pm: Interview with captured solider in hospital in Benghazi

Image: Eman al-Obeidi, being removed on Saturday from the Rixos hotel in Tripoli by a Ministry of Information official, said she was sexually assaulted by up to 15 men after being arrested at a checkpoint in Tripoli.
[photo: Albert Facelly/SIPPL, via Associated Press]
Image: Eyewitness: Odyssey Dawn exercise: French soldiers are winched down from a helicopter next to an E2C-Hawkeye airborne early warning and control plane on the aircraft carrier Charles de Gaulle during the international military operations in Libya… click to view!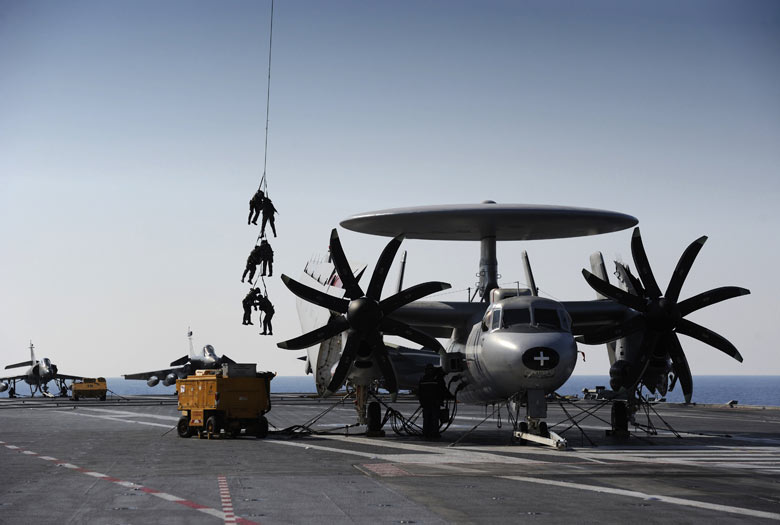 2:30pm: An opposition spokesman called Abdelbasset told Reuters by telephone: "The allied planes are in the sky above Misrata and they have bombed locations of the [Gaddafi] forces in the outskirts. The [Gaddafi artillery] shelling of Misrata has eased. There was heavy shelling earlier."
2:07pm: Ajdabiya residents have claimed they were brutalised by Gaddafi forces. Ibrahim Saleh, 34, told AFP news agency: "The tanks were firing on the houses non-stop. I couldn't move from my house for days. There was no water or fuel or communications, and when people went out even to get fuel they were fired on."
1:42: Libyan TV says "crusader colonial coalition forces" committed a "massacre against civilians to provide air cover for armed gangs" in Ajdabiya – a strategic town captured by rebels after Western air strikes on Saturday.
1:38pm: Libya's Deputy Foreign Minister Khaled Kaim said government forces pulled out of Ajdabiya after another night of coalition strikes, Reuters reports. He accused Western forces of directly aiding the rebels.
1:20pm:
A Women from Benghazi tells her story of being captured at a Tripoli checkpoint simply for being from the Opposition held city. Her face was heavily bruised and her upper right thigh had blood on it. "They peed on me. They                             violated my honour." As she attempted to tell journalists her story, security                          personnel captured her. She was then dragged to a parking lot and bundled into a  white car. Security men said they were taking her to hospital. Read the full story here
1:10pm:
Barack Obama, the US president, says that the military mission in Libya is clear, focused and limited, and that it has already saved "countless" civilian lives. He added that Libya's air defences have been disabled, Gaddafi's                       forces are no longer advancing and in places like the city of Benghazi, a rebel                           stronghold, his forces have been pushed back.
"So make no mistake, because we acted quickly, a humanitarian catastrophe has been avoided and the lives of countless civilians – innocent men, women and children – have been saved," he said in a weekly radio address.
12:28pm:
Ajdabiya resident interviewed by the BBC thanks President Nicolas Sarkozy of France and UK Prime Minister David Cameron for their support, following the apparent fall of the city to anti-Gaddafi forces.
11:18am:
James Bays from AlJazeera English reporting that opposition forces have recaptured Ajdabiya and with little threat also captured Brega and are on their way to RasLanuf
10:51am:
Opposition forces enter into the strategic eastern city of Ajdabiya tooting car horns and firing into the air in celebration, some shouting "God is great"
10:48am:
@Libyan4life tweets: Reports coming in of heavy shelling and tank presence in #Misrata hitting civilian targets.
10:45pm:
AlJazeera's James Bays reports from Ajdabiya
10:11am:
Opposition forces say they have seized control of the strategic eastern oil town of Ajdabiya, following a seventh night of Western air strikes
8:10am:
Going under the knife isn't only for Movie Stars or Joan Rivers. Gaddafi in a bid to appeal to the youth in the Libyan population had a little "something-something" done to remain, at least what he thinks, a relevant and virile leader. Read more about the Brazilian surgeon who worked on Gaddafi at midnight and after a burger break.
8:00am:
Khamis Gaddafi was in Houston, TX in January. Question is, what was he doing?
7:29am:
The United States and it's allies are considering supplying weapons to the Libyan oppostion, the Washngton Post newspaper has reported
Maps: March 25: New maps out on Coalition military assets and Attack sites.. Click to view!
4:30am: Photo Journalist John Moore, tells PBS that his assignments in the middle east during the recent uprisings, have been among the most dangerous he has ever been embarked upon. He describes his travels from Egypt to Libya.
Watch the full episode. See more PBS NewsHour.
Image: A Qatari Mirage jet fighter takes off after refuelling at Larnaca's old airport in southern Cyprus on March 22. Qatari warplanes have overflown Libya,becoming the first Arab state to take part in military operations to enforce a no-fly zone under a UN
4:11am: Video: F-18 fighter jets and C-130 cargo planes took off from the US air base in Aviano, northern Italy on Sunday, as part of the international effort to enforce a UN-mandated no-fly zone in support of rebel forces in Libya. Weapons were seen being transported around the base and loaded onto F-18 fighter jets and C-130 cargo planes. The US air base in northern Italy, which is home to the 31st Fighter Wing, is the region's only US air base with aircraft assigned to it. The US and European nations targeted Libyan leader Moammar Gadhafi's forces with airstrikes and dozens of cruise missiles on Sunday. The US military said 112 Tomahawk cruise missiles have been fired from American and British ships and submarines at more than 20 coastal targets to clear the way for air patrols to ground Libya's air force.
3:45am: A military site in Tripoli's eastern Tajura suburb was in flames early  on Saturday morning after three major explosions rocked the district, a witness told AFP
3:30am: Reuters reports that Western warplanes bombed Muammar Gaddafi's tanks and artillery in eastern Libya in an attempt to try to break a battlefield stalemate and help rebels take the strategic town of Ajdabiyah. Rebels said they had entered Ajdabiyah from the east on Friday, while Gaddafi's forces held on in the west of the town, which commands the coastal road towards Tripoli.